TROPHY CATFISH & PADDLEFISH GUIDE SERVICE
TROPHY CATFISH & PADDLEFISH GUIDE SERVICE
Premier trophy catfish and paddlefish adventures in St. Louis & Lake of the Ozarks
Trophy Catfish & Paddlefish Guide Service
Land a trophy catfish or paddlefish today!
We are a full time catfish and paddlefish guide service specializing in landing trophy blue catfish on the Mississippi & Missouri Rivers and monster paddlefish in the Lake of the Ozarks.
Missouri is home to some of the best catfish and paddlefish fishing in the country, which keeps us running 7 days a week and 2 trips per day. We would love for you to join in our pursuit of world class fishing and an exceptional experience on the waters of Missouri.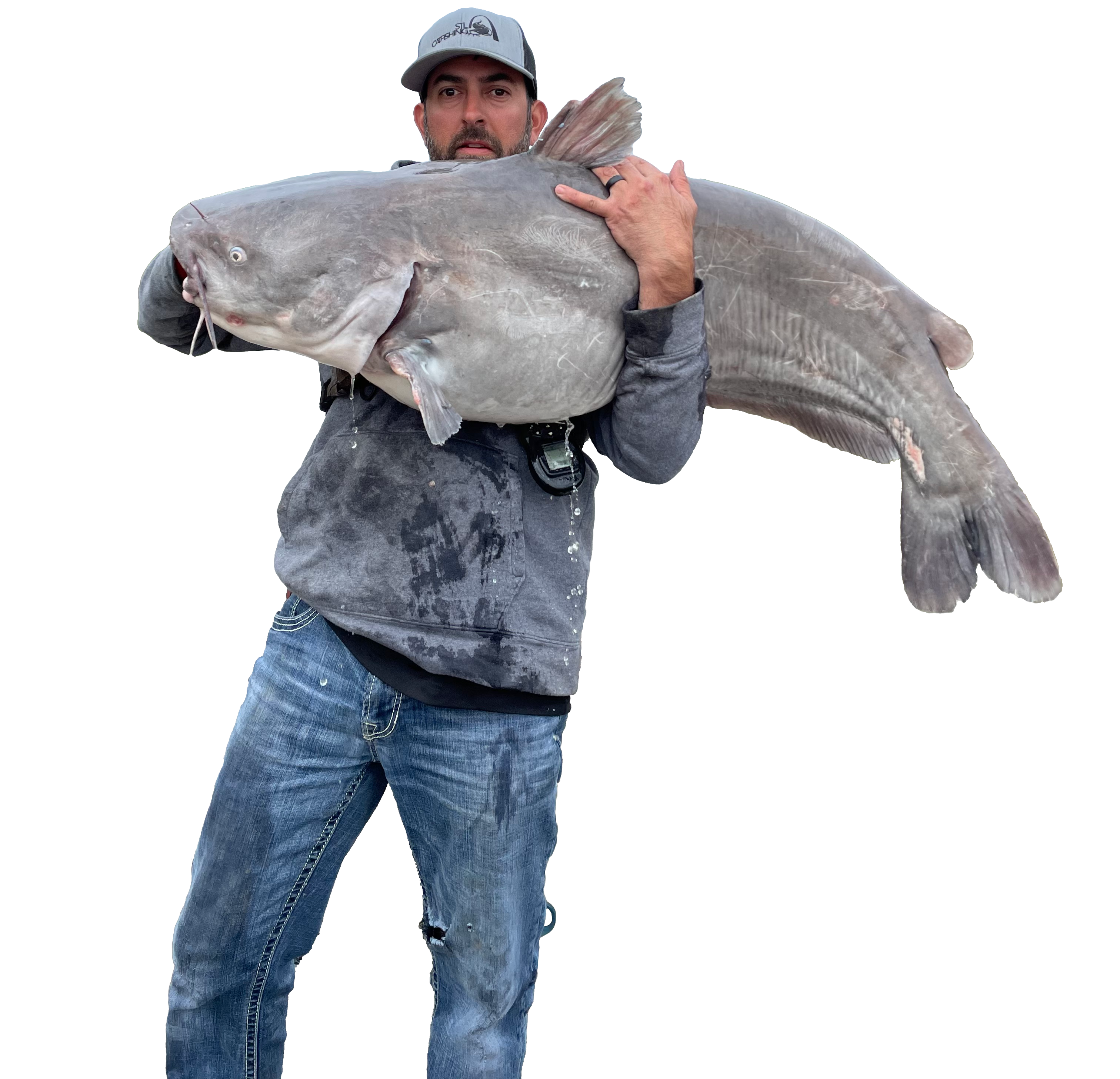 Capt. Jason Schneiderhahn
I am Captain Jason Schneiderhahn.  Fully insured USCG-certified captain and my specialty is targeting trophy blue catfish on the Mississippi River near St. Louis, and paddlefish at the Lake of the Ozarks.  I fish from Grafton, Illinois to Chester, Illinois, and the Lake of the Ozarks in search of trophy blue catfish and paddlefish.
We fish for paddlefish from March 15th through April 30th at the Lake of the Ozarks.  We catfish from May 5th through mid-October conditions permitting.  Our style of fishing is controlled drifting,  back bouncing, and traditional anchor fishing.  Paddlefish are caught by trolling or Livescope.  These styles put blue catfish and paddlefish on the boat.  Our goal is to land trophy blues and paddlefish but we occasionally hook up on multiple species such as channels and flatheads.
I have lived in St. Louis my whole life and I'm an avid outdoorsman. Growing up, I fished lakes and creeks with my father and brothers targeting largemouth bass all over Missouri.  Not until about 2005 did my addiction to catfishing take hold and now I can't get enough! Once I felt the fight of a monster blue catfish, I was hooked!  There is no other fish in the area that put up a fight like the Mississippi River blue catfish.
I only use the freshest bait. People think catfish are trash eaters when in actuality they can be very picky.  People do get lucky from time to time and catch catfish on hotdogs, dough baits, and whatnot, but you will not find any of this on my boat. I use fresh Skipjack Herring, Mooneye Herring, Goldeneye Herring, and Gizzard Shad. The fresher the bait the better productivity and the more fish we land.
If you're ready for an award-winning catfish and paddlefish experience in Missouri, book your trip with STL Catfishing today!

Missouri's Premier Trophy Catfish & Paddlefish Guide Service
Are you ready to go fishing, yet?
Reel in an unbeatable experience!
Multiple boats available to get you out on the water
Catfish
4 Hours
Mississippi & Missouri River
+ $100 per additional passenger
Catfish6 Hours
Mississippi & Missouri River
+ $100 per additional passenger
Paddlefish Trolling
4 Hours
Lake of The Ozarks
+ $100 per additional passenger
Paddlefish Livescope 4 Hour
Lake of The Ozarks
Familiarize Yourself with Our Fishing Trip Rules & Regulations
We want to ensure that all participants have a safe and memorable experience. Please read the trip information provided and make yourself aware of any applicable state rules or regulations prior to your adventure.
At STL Catfishing guide service, we believe that using top-quality equipment is the key to maximizing your chances of catching more fish. That's why we proudly partner with the best equipment manufacturers in the industry. By utilizing state-of-the-art rods, reels, lines, and tackle, we ensure that you have the necessary tools to tackle those trophy catfish with confidence.
Partnering with renowned equipment manufacturers allows us to stay ahead of the game, incorporating the latest advancements in fishing technology into our operations. From high-performance reels with smooth drag systems to specialized catfish rods designed for optimum strength and sensitivity, we leave no stone unturned in providing you with the best gear available.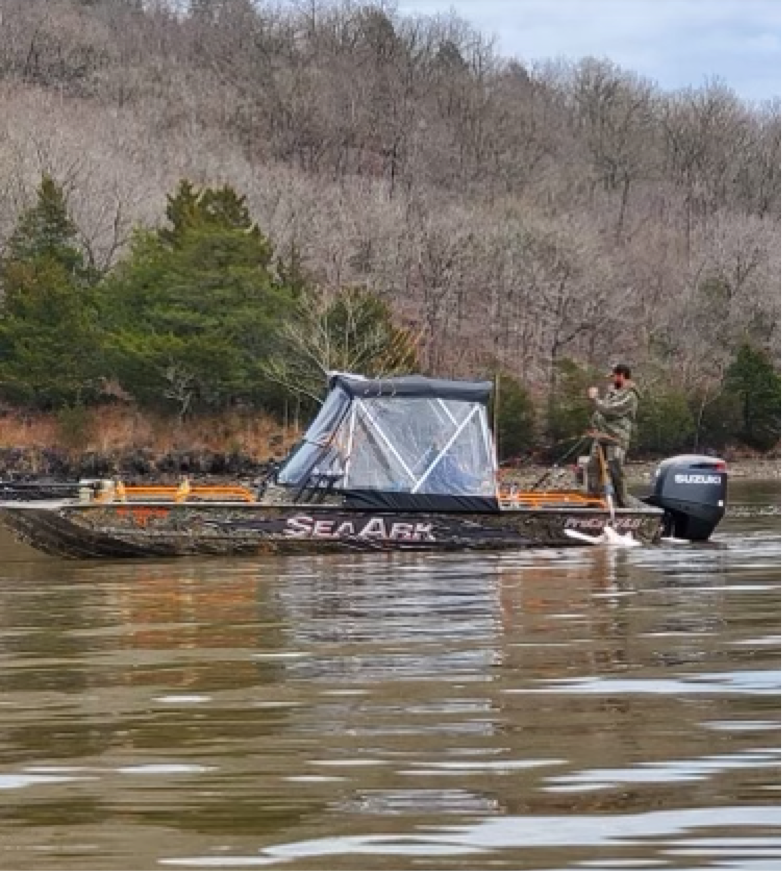 This is a very stable and safe boat for fishing the big rivers.  I am fully rigged with all of the latest and greatest gear to insure you have the best odds possible for landing your trophy fish.
Length: 24′
Beam: 94″
Bottom Width: 72″
Side Depth: 26″
Gauge: .125
HP Rating: 250
Weight Cap: 2550
Persons Cap: 8/1110
Approx Weight: 2550
Transom Height: 25″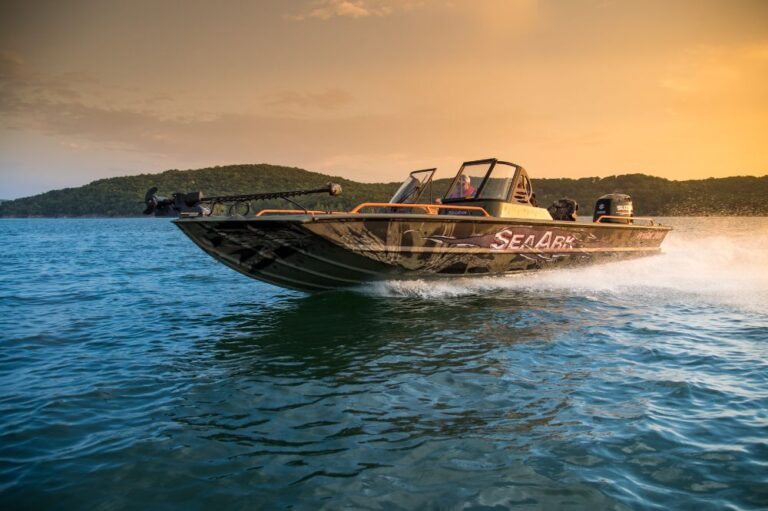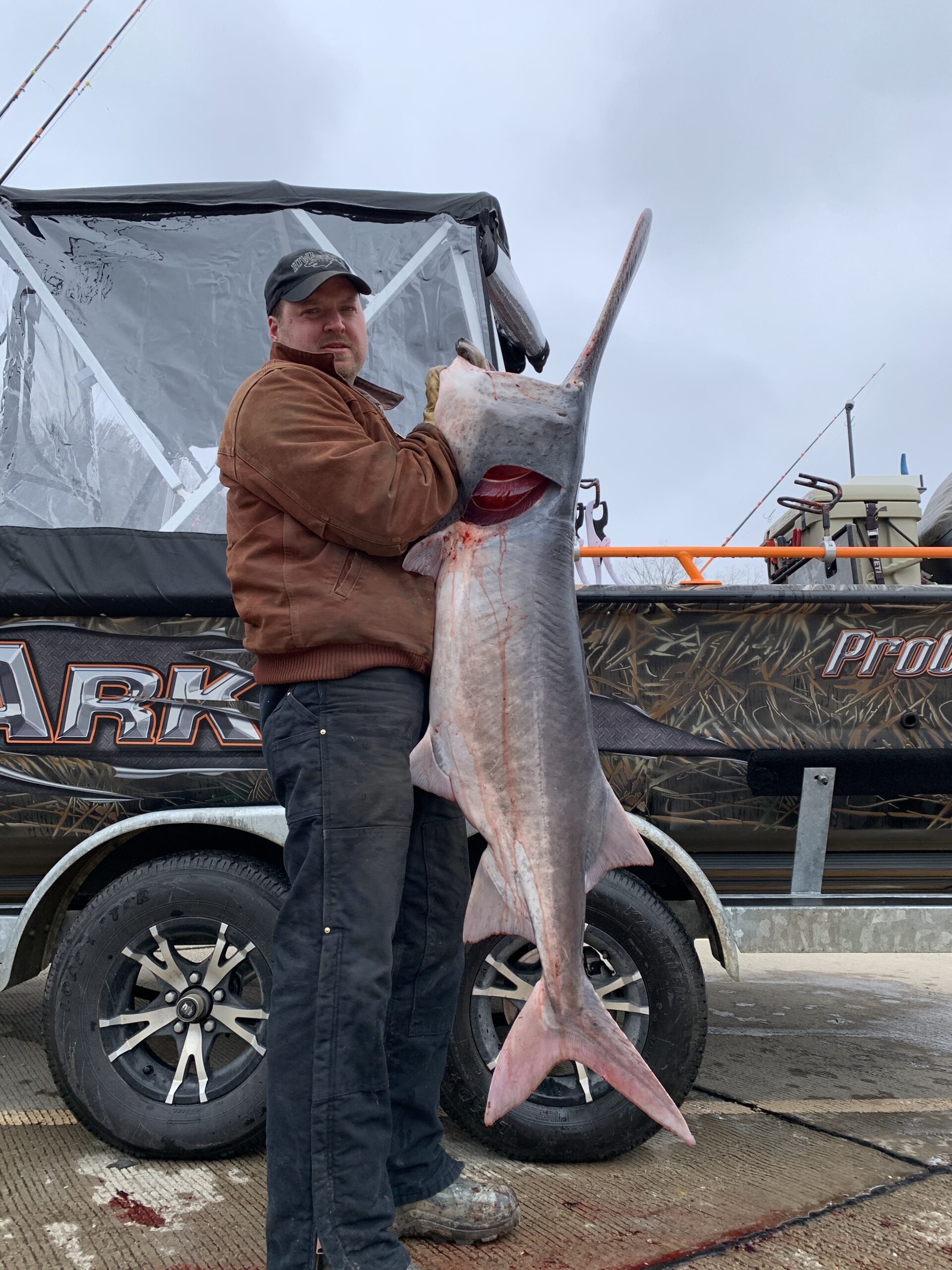 Charlie Bailie
"It's always a great time with Jason, he'll do everything he can to put quality fish in the boat and make sure his clients leave happy and ready to book another trip. Monster catfish or paddlefish he's the guy to call!"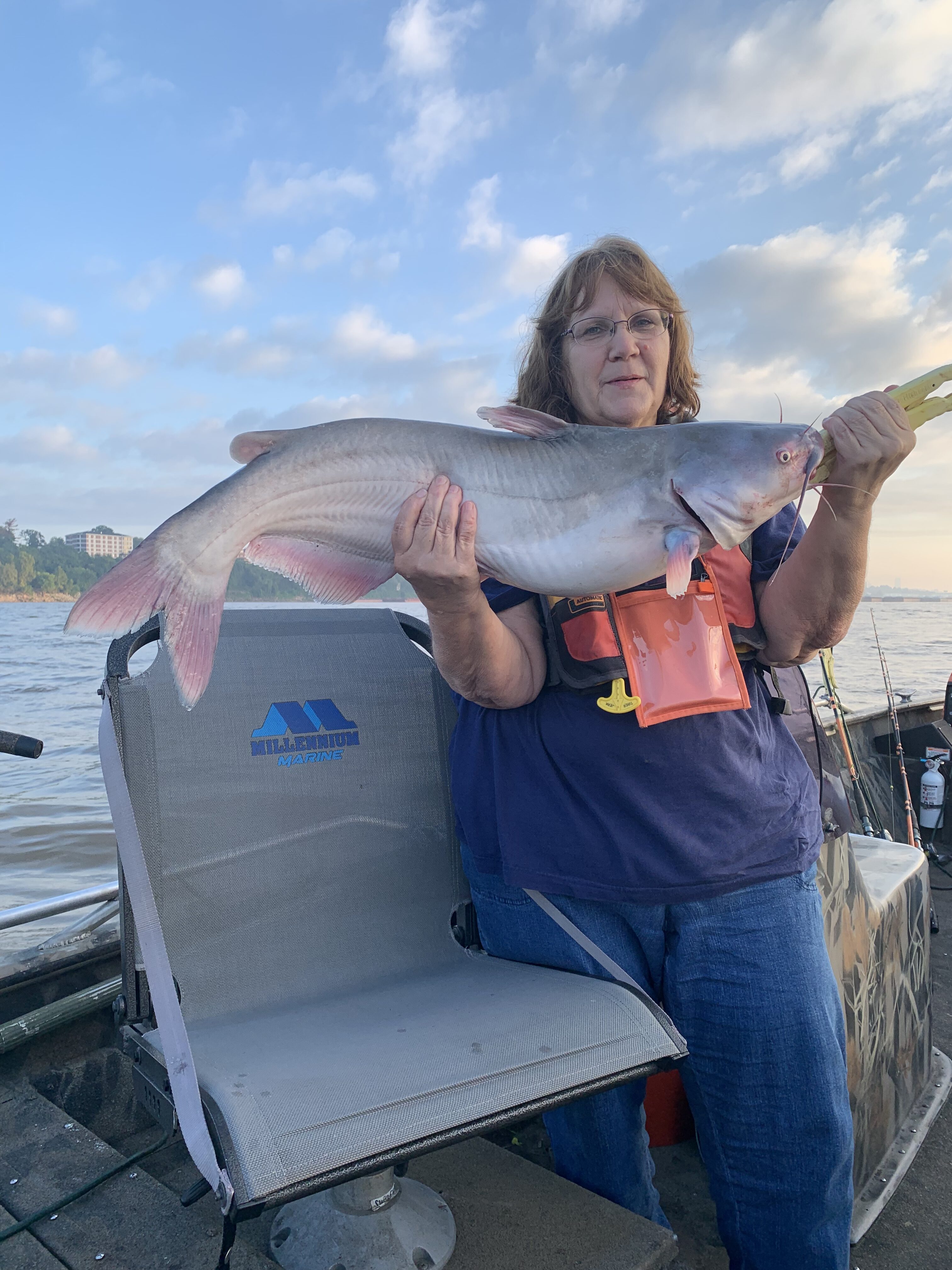 Maureren Wirschell
"My son and I had a great time with Captain Jason at Lake of the Ozarks. We went Spoonbill fishing for the first time. Captain Jason was amazing!! He is extremely knowledgeable and experienced. We really learned a lot and we caught 3 spoonbills! Thanks Captain Jason. My son is excited to go again next year and he wants to bring a friend!"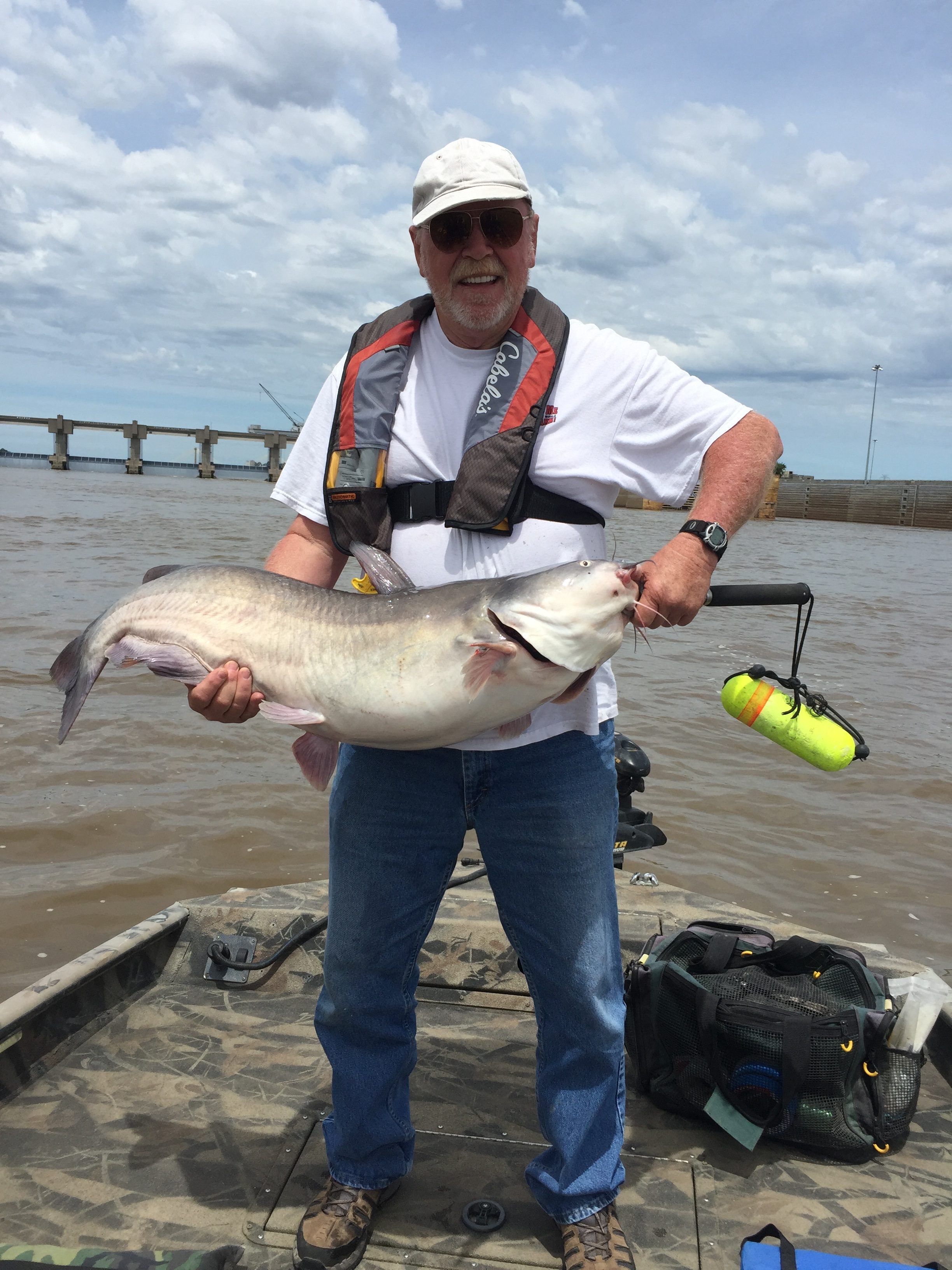 Scott Simmons
"What a great experience with Jason. My dad and I had never gone catfishing together and I wanted to make this memorable for my pops. It certainly was. I also wanted to learn as much as I could from Jason and he was super nice in sharing with me some of his tactics and techniques. Great time had by all that's for sure. Thank you Jason, I'll certainly refer you and absolutely be back!"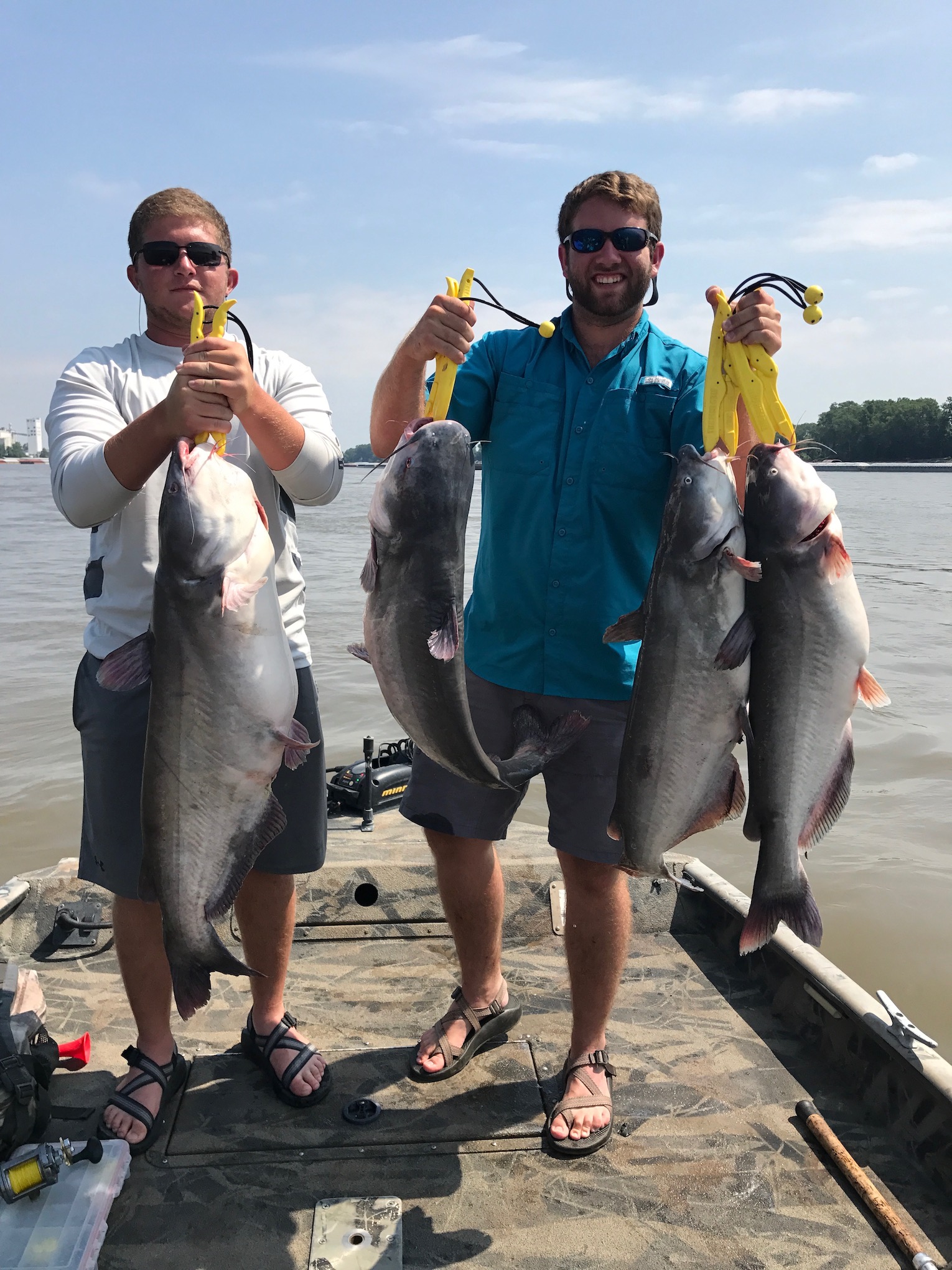 Tamara Christie
"Our family of three had a great trip with Jason today! Jason is a gentleman, very knowledgeable, great with kids/teens and a wonderful guide. We highly recommend his service! All three of us caught several fish and had a blast fishing for the first time on the Mississippi! Definitely a highlight of our Midwest road trip!"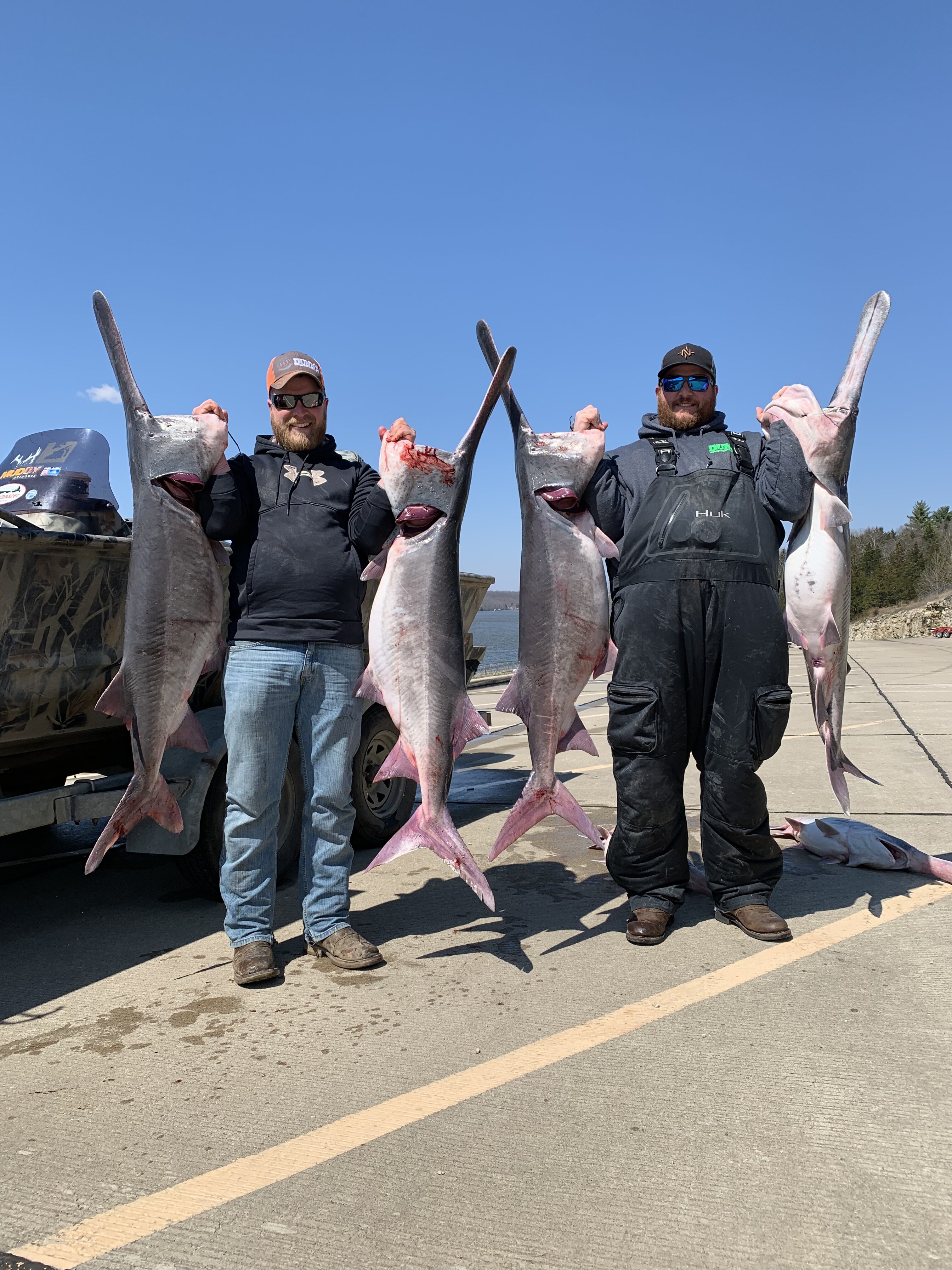 Andy Marks
"Jason is a great fisherman and an even better guy. Ive booked with Stl Catfishing twice now with my dad and we plan to make this a yearly trip. Both times we've gone out we have had a lot of success, and this time we caught a 71.5 pounder. Even if you don't have a ton of experience like myself, Jason makes you feel comfortable and will coach you every step of the way. I definitely recommend this trip to anyone and can't wait to go back!"